Manage Your Debt with These Debt Payoff Apps
It can be difficult to pay off debt. However, we have access to a number of debt management tools designed to handle our finances. Whether the goal is to eliminate debt or set and achieve a financial goal, you can select the app that works best for you and your unique situation. Here's a selection of some of the most popular free and paid debt payoff apps and online tools on the market.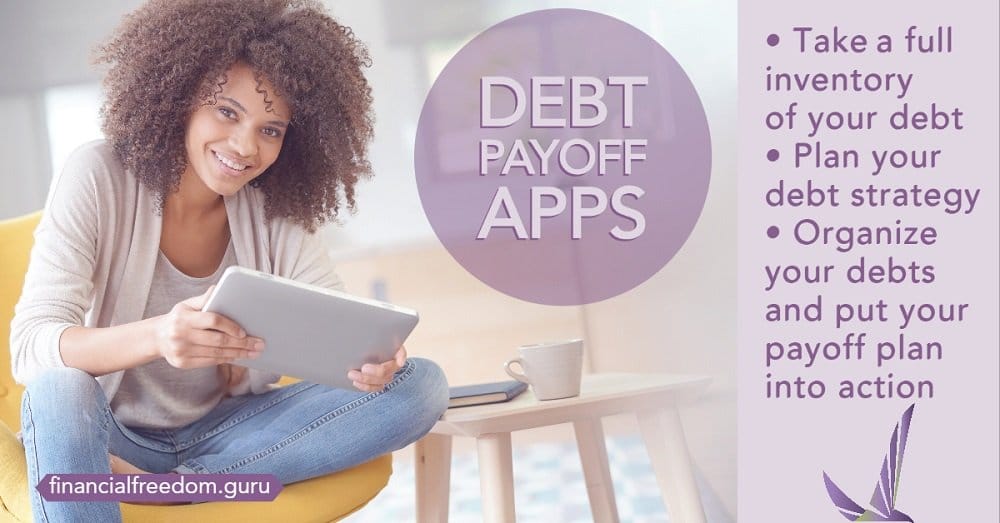 Tools to Take a Full Inventory of Your Debt
To tackle debt, you need to assess the situation before you take any actions. You must understand how much debt you owe, and to who it is owed. It is important to know the terms of the debt:
interest rates
minimum monthly payments
and other conditions, like penalties.
 To connect all your financial accounts, there are several debt management tools that you can consider, including:
Mint – the most widely used free money management tool on the internet. It links all your bank, loans, credit cards, and investment accounts, using one dashboard to view all your balances. Mint has a tool that allows you to set goals for paying off each debt account. You also have the ability to download and keep all transaction details together.
Credit Karma – allows access to your Equifax and TransUnion credit reports so that you can see all current balances and debts. It also grants access to your credit score.
AnnualCreditReport.com. By law, the three consumer credit bureaus must give you access to a free copy of your credit report every year. The only way to access this government-mandated program is to visit AnnualCreditReport.com. It's recommended that you do this every year.
Tools to Plan Your Debt Strategy
The two most successful strategies to pay off debt are the snowball and the avalanche. Use the tools below to help you set priorities either way.
Unbury.me –  This is a simple straightforward calculator that can help chart a way forward to regaining financial soundness. You enter your debt information, then compare methods to determine the best option. Tweaking your monthly payments will update the remaining principal and interest payments, and your final payment date. Feel free to look at all the debt you own, then create a payment plan prioritizing the debt by lowest debt balance or highest interest rate.
Debt Payoff Apps to Organize Your Debts and Put Your Payoff Plan into Action
By now, you know which debts need to be paid and how you want to pay them. The next step would be to create and execute a debt payoff plan. The apps shown below (some of which are completely free) can help you with this.
Availability: Android
Cost: Free
Looking for help to set time-based benchmarks for paying off your credit card debt? Credit Card Payoff is a solid option for debt payoff planning. It also allows you to see how much your monthly payments should be to meet your deadline. The app has easy-to-understand charts to show how your interest and payoff timing would change by paying off debt faster.
Availability: IOS
Cost: $0.99
Unlike most of its competition, Debt Free specializes in using one strategy (debt snowball) to overcome debt. Note that the app allows for other repayment systems to be used. The app offers calculators, payment notifications, and an amortization table of each debt. The latter will lay out the principal, interest, and balance remaining on each payment and the entire debt.
Availability: IOS
Cost: Free; Debt Payoff Pro version is $0.99 and ad-free.
Debt Payoff Assistant also uses the debt snowball method. (You may choose a different technique if preferred). It allows you to input as many debts as you wish, including auto loans, credit cards, and student loans. This debt repayment app will track your payments and display a progress bar for each debt. It also provides various statistics on your debt, like total debt, balances remaining, total interest saved, and total interest paid. The app tracks your debt payoff date and time saved as charts and reports; and adjusts to reflect extra payments. The Debt Payoff Assistant reminds you went your next payments are due.
Cost: Free to download, but your monthly interest rate will vary based on your creditworthiness.
Tally is a debt payoff app with a bonus. Like other debt management tools, it was created for consumers who struggle to pay their high-interest credit card debt. If you need help to determine the most efficient way to eliminate monthly debt, Tally may worth a second look.
The bonus: Tally is also an automated debt management app. What this means is that the app provides consumers with a credit line for paying off debt.  (Tally's interest rate should be lower than that of your lender.) The payments apply to your highest-interest debt first, while making minimum payments on the others. You repay the Tally credit lines instead of your creditors. Tally promises that your credit card payments are always on time, and you'll save money on interest.
Despite being free to download, Tally is not available to everyone. In order to qualify, you'll need a 660 FICO credit score and pass additional requirements for eligibility. (Tally runs a soft credit check to determine eligibility, so your credit isn't dinged when applying or using the app).
Cost: Free to download; monthly fee of $1
ChangEd was created to help pay off student loan debt in a couple of steps. You sync the app to your bank account, allowing it to analyze your spending habits. The app also rounds up purchases to the nearest dollar and places it into an FDIC-insured account. When the account reaches $100, ChangEd withdraws the money in $100 increments and uses it towards the student loans.
Availability: Android
Cost: Free
Use Debt Tracker to follow up on your debts offline. You don't need your bank account information to begin. Sort debts by name or size. You may also track penalties, interest fees, and payments while working along with your debt payment plan.
Debt Tracker can also track your savings. Instead of inputting your debt, put in a savings (or other) financial goal. This can provide a better view of your financial health.
Conclusion
Dealing with huge debt is hard. Debt's large monthly payments can crush motivation and delay dreams. It can force people to put off buying a home, having children, going to college, or achieving other life goals. If you're dealing with debt, consider using one or more of the debt management tools discussed above. Having a debt payoff plan can be a huge relief.